In conjunction with our team member Róbert Javorčík, who successfully leads his non-commercial brand of carp baits under the name "Robroj", we have prepared an opportunity for you to use baits that have been tested on our lakes since year 2016. From the whole offer of "Robroj" brand products, only those that really work at our lakes and our fish accept them with confidence are offer to you.
Of course, these products will not always bring you a success, but they achieve a high and stable success rate, which we can prove with photos of almost all fish from our "A-Team", which were caught with the help of these products. Some of our TOP fish are caught repeatedly every year with these products, which is of course no surprise, as their development took place in countless hours set off the bank at our lakes.
Of the TOP fish caught, we will mention only a few, such as "Vesper" weighing 56.10 lbs., which was caught on "NUTTY" boilies. Our next recorder "Tyson", which held the official record with a weight of 57.20 lbs. until this year, was caught 3 times in the period from August to October 2020 and always on "CITRUSS" boilies. Our biggest mirror named "Scamp" has already been caught twice on "CITRUSS" boilies. A very stable boilies that achieves year-round effectiveness is the "FOODY", which have several fish on the account across the magical number of 44 lbs. For example, the "Batman" weighing 53.20 lbs. or our current record, "Salamander" weighing 59.80 lbs., which was caught on a combination of "FOODY" boilies with "CORNY" pop-up boilies.
We can also mention the biggest mirror carp (also the biggest fish, maximum weight at 66.80 lbs.) from the lake "Land Of Mirrors", named "Patricia", who were caught twice (58.90 lbs. and 59.80 lbs.) with use of "Robroj" pop-ups boilies (Pineapple and Peach).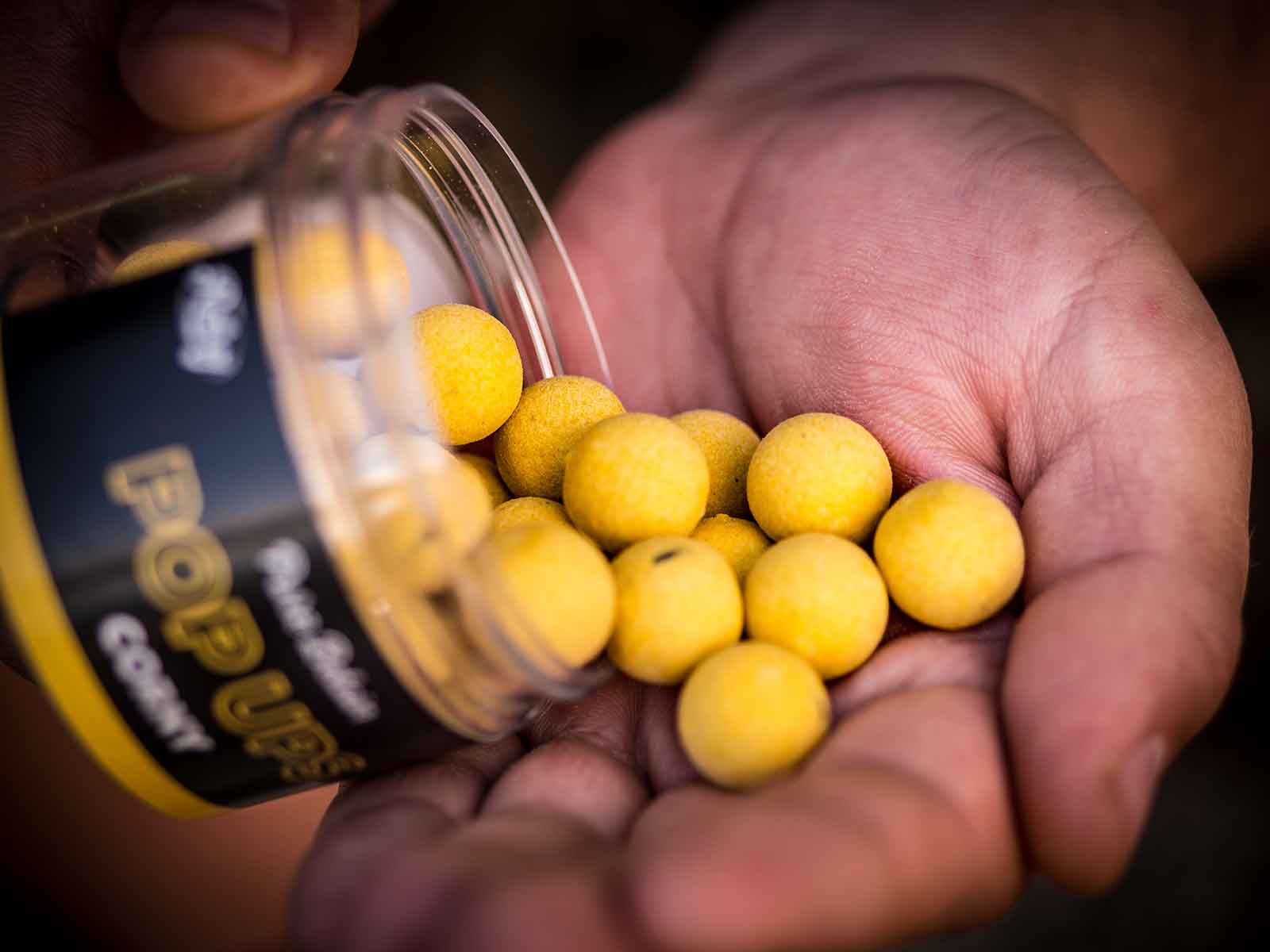 The offered products are manufactured with regard to fast digestibility, high attractiveness and maximum safety for our fish, as during their development they were replaced in recipes, e.g. all chemical dyes (the use of chemical dyes in fish farming products is prohibited in the EU) as natural dyes, respectively dyes have been completely removed from the recipes. Also, all the flavours and liquid attractants used in the recipes do not contain any ingredient whose content in fish farming is prohibited in the EU.
For those who just want to try the products and get to know them, we have prepared small packages with content of 250 g, and for those who decide to use them as freebies, it is possible to provide larger packages of 2.5 kg or 5.0 kg bags. Larger packages can be ordered before your arrival via our Facebook page or email, where we will specify all the details.
BOILIES:
FOODY
Blend of natural and marine extracts, crustacean meal, water dissolvable fish proteins and spices.
Attractor profile: Savoury blend of fishmeals with a touch of monster crab and maple.
NUTTY
Blend of tiger nut and peanut flours, liquid extracts of tiger nut and peanuts, supplemented with a caramel flavour stimulator and classic chocolate flavour.
Attractor profile: Sweet mix of tiger nuts and peanuts with a touch of caramel and chocolate.
CITRUSS
Highly digestible blend of sweet birdfoods, natural extracts, milky and creamy taste enhancers and citrus type of essential oils.
Attractor profile: Blend of sweet birdfoods with a touch of milky and creamy powders and citrus fruits.
POP-UP BOILIES:
CORNY
These pop-ups are the legend among other pop-ups from "Robroj". Sweet corn has been, actually is and will still remain the number one choice between carp anglers. However, this version is somewhat different, complemented by another gentle and creamy flavour and a few drops of the right essential oil. The natural yellow colour of sweet corn also has a great influence on its effectiveness.
CITRUSS
The already legendary boilies, which every year proves their ability to get even the biggest carp, deserved its floating version. Well-tuned combination of flavours from exotic and tropical fruits, strengthened by a combination of several citrus essential oils.
PINEAPPLESS
An unbeatable combination of a strong and natural pineapple flavour with a high dose of "smelly" N-Butyric Acid. It is a number one choice as a single hookbait and our first choice for early spring fishing.
PEACH ZING
The classic combination of a delicate peach flavour with the spicy background of Black Pepper essential oil, which gives these pop-ups its famous "zing". It is an irresistible combination for carp in certain situations.
PLUM ROAYAL
These pop-ups have very distinctive and different scent of plum flavour in combination with not so known attractor Caproic Acid, which has similar properties as its more famous "brother" N-Butyric Acid. When you will smell it, you will find out why it has the adjective "royal".