Green Lakes "Land of Mirrors" – Lake map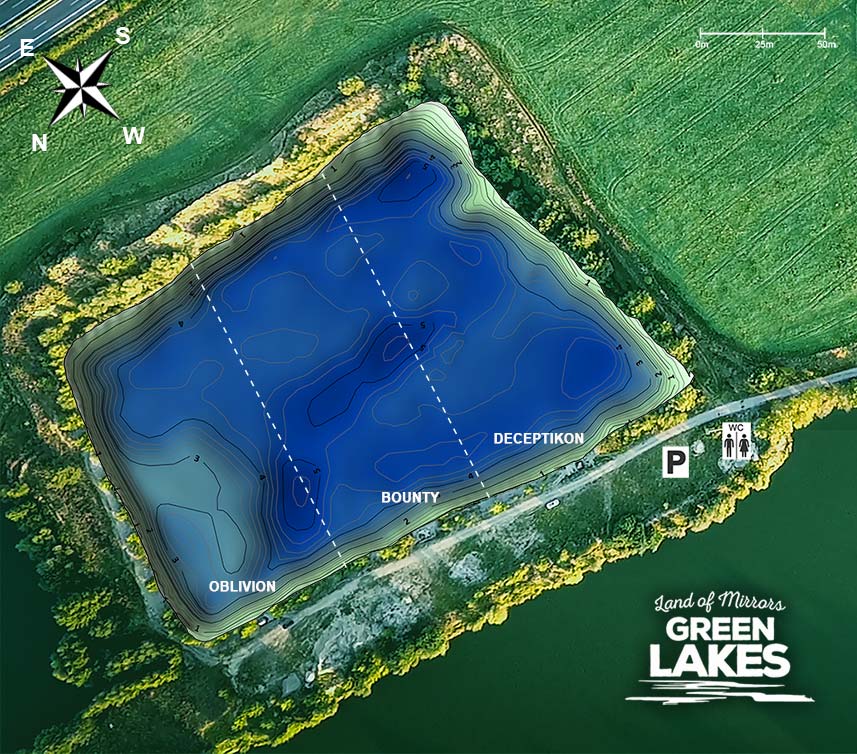 Green Lakes "Land of Mirrors"
Lake:
The lake has an area of ​​less than three hectares. Three fishing swims, each for one angler, are situated on one side of the lake.
Fishing:
Sport fishing is allowed by casting and it is also possible to use an electric bait boat. The lake is adapted for an experienced and independent angler.
Fish stock:
The record of the lake is a mirror carp weighing 31.00 kilograms. Many different forms of mirror carp with an average weight of 15 to 18 kilograms are stocked in the lake. The two heaviest common carp weigh 23.50 kilograms and 24.50 kilograms.
Fishing rules:
The fishing rules will be notified in person by the bailiff of the Green Lakes Fishing Holidays.
Reservations:
The lake operates in "VIP" mode. Reservations can only be accepted in person with the bailiff of the Green Lakes Fishing Holidays.
A precondition for the reservation is to have previous fishing visit of the lake "Land Of Commons".
The bailiff does not provide any information about the lake, rules and reservations through social channels, by phone, email, etc.!